Auditions – Always a Bridesmaid – Comedy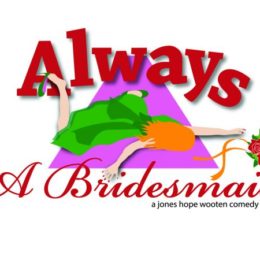 We are pleased to announce the dates of audition for the Opera Lane Performers' Spring 2018 performance of Jones, Hope & Wooten's, "Always A Bridesmaid"! This will be an all-female cast, and we are seeking both seasoned and new-to-the-stage actresses!
If you would like to audition for one of the six lively and energetic roles, you may pick up a copy of the section of script that reflects your role of choice at the Huber Opera House & Civic Center office (during office hours) prior to auditioning. Auditions will be held onstage at the Huber Opera House on Saturday, January 27, 2018 at 2:00 pm and on Sunday, January 28, 2018 at 2:00 pm. "Always A Bridesmaid" will then be performed on Friday, April 27, 2018, Saturday, April 28, 2018, and Sunday, April 29, 2018.
Please contact Hope Owens at (419) 890-5917 or the Huber at (419) 542-9553 if you have any questions! We are looking forward to seeing you!
LIST OF CHARACTERS
KARI AMES-BISSETTE: This is HER wedding day! A 20-something (and youngest cast member!), Kari's main role is to guide the guests of her wedding reception (aka the audience) through each of the four scenes via narration. She is confident, full of life, and well-beloved by each of the characters.
 LIBBY RUTH AMES: Libby Ruth is the "mother of the bride." She is the 40-something, sweet and fun-loving (but sometimes neurotic!) "mother hen" of the group. She finds it difficult being a hopeless romantic while things are less-than-perfect at each of the weddings represented. She is the glue of the group and shares a beautiful moment at the end of the play with her daughter!
 MONETTE GENTRY: Monette is the bulb that lights up every room…while sometimes blinding those within with her eccentricities! She is very flashy and known for dressing much younger than her 40-something age! She is a flirt and an insatiable optimist…who looks forward to ALL of her weddings! (Heavens to Betsy!) Modesty is NOT her middle name, as this character will be wearing the most outlandish and wild dresses!
 CHARLIE COLLINS: Poor Charlie sticks out like a sore thumb, as she finds frills and poofed-sleeves completely pointless! This 40-something, nature-lover and Birkenstock-wearer, is truly a free-spirit…but she can also be acurbic and snarky! She would much prefer to get dirt under her fingernails by gardening than wear the latest fashions and hairstyles. But, as you will find out, she will do anything for her dearest of friends! (Oh my! We will just give her an "A" for effort!)
 DEEDRA WINGATE: Deedra, also a 40-something, is a very intelligent and no-nonsense judge from Connecticut. Now living in Washington D.C., this straight-laced, professional woman finds it difficult to have fun and relax these days, but somehow her friends know how to loosen her up…in more ways than one! (She triumphs in the end, and the applause will be warranted!)
 SEDALIA ELLICOTT: Sedalia is a paradox of a lady! A 60-something, she is the regal and posh hostess of the historic Laurelton Oaks Estate who will stop at nothing to see a wedding day be successful and without flaw! While she tries her very best to put on refined and elegant airs, her energetic and non-conventional personality leaks out…in case of emergency! (Imagine the Dowager, Lady Crawley meets Rosie the Riveter!)