Unclouded Day – October 16, 2016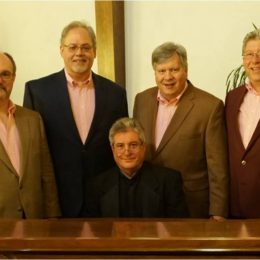 As part of the Opera House's busy Fall Schedule, the ensemble plans to present a program of contemporary vocal settings of traditional and gospel songs and hymns, as well as several instrumental features.  Unclouded Day is proud to have as their piano accompanist, Dr. Alexander Klepach, 1986 Graduate of the Moscow Tchaikovsky Conservatory.  Additionally, the concert will feature Alex's wife, Violinist Olga Yurkova, also a Tchaikovsky Conservatory Graduate.  Alex and Olga serve as Principal Players in the Fort Wayne Philharmonic and perform duo-concerts throughout the U.S.
Unclouded Day is accompanied by piano, bass and brass instruments.  The ensemble will present a 75-minute vocal and instrumental program – expect to hear many of your favorite traditional hymns such as Amazing Grace, Because He Lives, God Bless America and How Great Thou Art offered in unique, contemporary arrangements!
Plan to attend and enjoy Unclouded Day's inspirational program in the Huber Opera House's beautiful concert hall.  The ensemble is looking forward to SINGING FOR YOU!