GROWING OUR HISTORY BRICK BY BRICK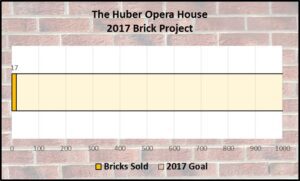 This is a unique opportunity to be a part of History for generations to come.
Why a brick for you?
Permanent Recognition of Personal or Family Accomplishments (Years of Service, Academic Achievements, Athletic Successes)
Lasting Tribute of a Loved One (In Honor Of, In Memory of, Dedicated to)
Memorialize Your Favorite (Quote, Bible Verse, Mission Statement, Lyrics, Opera Lane Performer)
Acknowledgement of (Organization, Business, Church, Military)
Add you name among the greats of the Huber's legendary past.
Each brick will be laser engraved with a lifetime guarantee from

Click HERE for order form